I'm in a weird love-bah humbug relationship with some of the holidays. Celebrating and giving gifts makes me happy, but for me that there is a specific day when it's compulsory to be merry and fit and relaxed, it's just weird.
"It was not really Saturday night, at least it may have been, for they had long lost count of the days; but always if they wanted to do anything special they said this was Saturday night, and then they did it."- Peter Pan
 Celebrating a random Wednesday just feels so good, much better than going out on a Valentines-day. Seeing something cute and affordable what I think would make a friend happy in a rainy October day makes me want to get it immediately, and give it as soon as possible, not wait until Christmas. But it can happen, that I have an invitation for a Birthday party, I really love the Birthday girl/boy and I have no time to get what I would like to give for the "deadline". And what is the point of giving bad presents, like bath crystals and decorative flower holders (unless the person who gets it is really into  bath crystals and flower holders) just to give something?
When possible, I try to get or make something personal in addition to what I buy. Creating has always been my passion, no matter if we are talking about paintings, jewellery, photos, or something edible. It does not necesseraly mean I'm good at these, but I love doing these and usually believe that if you make something with love, it will carry a positive energy with itself, and I also love getting handmade things, because I know someone has really put effort and time in making them. 
After having a chat with my boss I found out she collects travel magnets from everywhere she goes, and she is not alone with that at all.
Keeping small souvenirs as a reminder of happy places is always nice, but seeing your own memories in a form of souvenir can be even better.
Converting your travel pictures to lovely fridge magnets is an easy, fun and inexpensive thing to do.
Never tried it? Just follow these easy steps:
1,
Select which pictures you would like to print out (this is the hardest part).
I would recommend 13-15 pictures for an A/4 page, this can vary depending on how big or small magnets would you like to have.
2,
Make a collage of the pictures, to fit on a page which has the proportions of the paper you would like to print on.
I used Photoshop CS 6 to create the collage, but there are plenty of easy to use collage makers on the internet what you don't even need to download, like Picture2 life  http://www.picture2life.com/ or Fotor http://www.fotor.com/features/collage.html.
3, Get printable magnetic sheets. You can buy them in craft shops, order from the internet or just go to Poundworld to buy Toblerone like me (they still have the original bigger ones at my local store) and find 2 glossy A/4 magnetic photopaper for a pound. Win!
4, At this point, you hopefully have a printer, or someone near to you has it and the cartridge has not run out of ink.
Put a printable magnetic sheet in the paper tray, set the printer for photo printing and print your collage.
5, Cut the pictures out alongside the white lines separating the images.
  Et Voila! Now it's time to decorate your fridge. Or someone elses.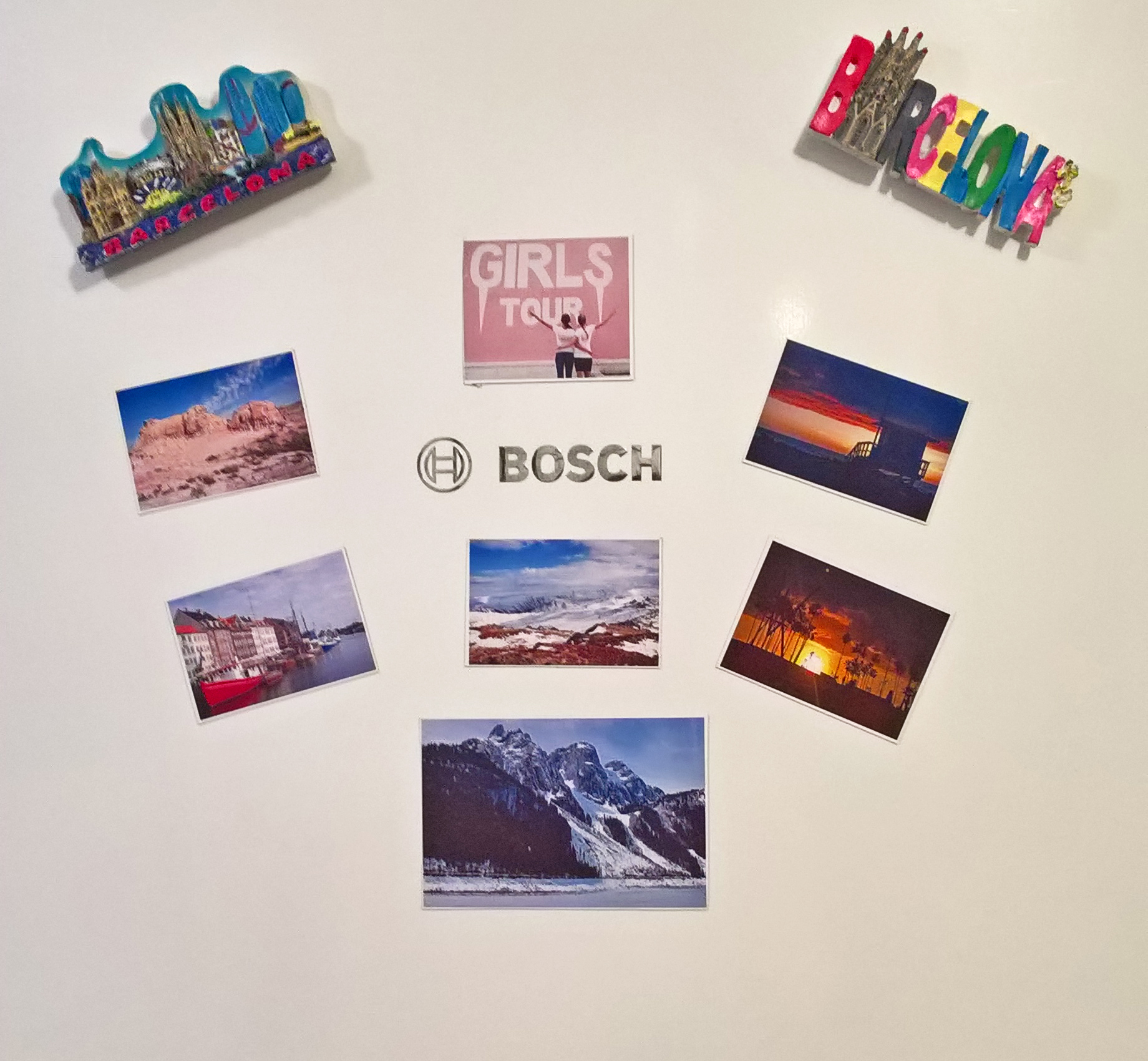 Do you collect something from your travels?